A GMFS Mortgage reverse mortgage is a unique loan insured by the Federal Housing Authority (FHA) that allows senior homeowners 62 years old or older to convert part of the equity in their homes into available cash… without having to sell the home, lose title, or make a monthly mortgage payment.
The FHA also refers to reverse mortgages as Home Equity Conversion Mortgages (HECM).
GMFS is a member of the National Reverse Mortgage Lenders Association (NRMLA)
How a Reverse Mortgage Can Work For You:
Create a growing line of credit for all cash needs
Payoff your existing mortgage
Supplement your retirement income
Consolidate your debt
Increase your monthly cashflow
Provide cash for emergency needs
Facts about a Reverse Mortgage:
No monthly mortgage payments required (interest will be accruing on the loan)
Similar fees and closing costs as a typical FHA loan
Homeowners are still responsible to pay their homeowner's insurance and property taxes
Loan proceeds are tax-free and may be tax-deductible upon loan repayment*
Loan proceeds may be paid in a lump sum, monthly payments, line of credit or any combination
No repayment of the loan until the last borrower moves out permanently or passes away
Homeowner's estate can choose to repay the reverse mortgage which includes the interest accrued or put the home up for sale
Qualifications for a Reverse Mortgage:
At least one homeowner must be 62 years of age or older
The home must be and remain your primary residence
You must own the home and have enough equity to qualify
There are some residual income requirements set by HUD
Any existing mortgage balance on the home must be paid off with the proceeds of the Reverse Mortgage
You must discuss the program with a HUD approved counselor
Ideally the home should be a single family home, or 2-4 unit home with 1 unit occupied by the borrower; or a HUD approved condominium
Reverse Mortgage FAQs & Process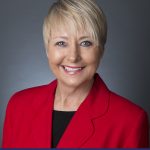 Carol Gremillion – Reverse Mortgage Specialist
GMFS MORTGAGE CUSTOMER REVIEWS
I have never dealt with a company that truly treats you like family. Every detail was dealt with professionally and with great care and compassion.
Exie C. GMFS Mortgage Customer
The person who assisted me for the Reverse Mortgage was excellent.
Betty F. GMFS Mortgage Customer
The Reverse Mortgage that my wife and I did has been the greatest experience of our lives. It was everything that they said and then some. It has freed up money to make life much easier.
Richard M. GMFS Mortgage Customer