GMFS Mortgage Community Support
GMFS Mortgage is CHANGING LIVES with local community support! We owe our success to the great communities we lend in and our great people working at GMFS Mortgage. We have a strong tradition of supporting our local communities in both good times and tough times. We strive to participate in many philanthropic and community groups, such as assisting in building homes, raising money through sponsorship, donating significant funds, increasing awareness of important causes, and much more.
In 2018, GMFS continued our long-standing tradition of CHANGING LIVES in our communities with more than $80,000 in charitable donations from corporate funds and $23,000 from our employee Jeans fund!
Assisting the Community Disadvantaged
Video: GMFS comes together to feed those in need during COVID-19 outbreak
Video: GMFS Employee Jean Fund Raising Program – Holiday Wishes
GMFS Employee Volunteers & Participation
Society of St.Vincent de Paul
Greater Baton Rouge Food Bank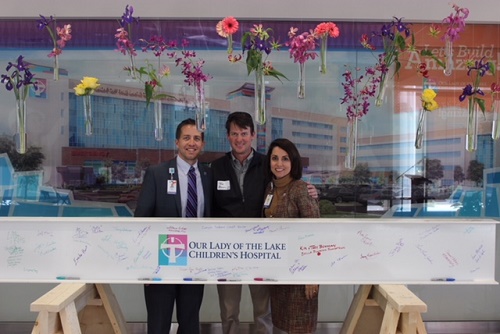 Community Health & Well-Being
ALS Foundation
American Foundation for Suicide Prevention
American Heart Association
American Junior Golf Association
Baton Rouge Area Chamber foundation
Better Business Bureau Macon, GA
Crisis Intervention Center
The David Dellucci Foundation (Law Enforcement – Bulls Eyes & Badges Event)
Greater Baton Rouge Crime Stoppers
Greater Macon, GA Chamber of Commerce
Hurricane Harvey Relief Efforts
Louisiana International Film Festival
Podcast: Ethan Bush discusses the services provided by Mary Bird Perkins Cancer Center in Baton Rouge
Special Olympics Louisiana
St. Francisville Area Foundation
St. Michael Golf Classic
Stratford Academy Booster Club (youth football)
Community Homeownership & Standard of Living
Capital Region Builders Association
Home for the Holidays sweeps: Get your mortgage paid for 2019!
Video: May 24, 2016 "WAFB 9 viewers and GMFS Surprise Revive225 Church Ministry Targeted by Thieves"
Video: Dec. 24 2015 "WBRZ viewers and GMFS help man living in deplorable conditions celebrate sweetest Christmas"
Video: Dec. 3, 2015 "GMFS Pledges to Help Baton Rouge Man Living in Condemnable Home"
Community Education & the Arts
Cristo Rey Corporate Work Study Partner
Professional Athletes Supporting Students (PASS)
Walnut Grove Institute (Lake Charles, LA school)
Various schools