Careers & Job Postings at GMFS Mortgage
GMFS Mortgage offers great career opportunities and is honored to be voted among the Best Places to Work and Best of the Best Mortgage Companies year-after-year!
Voted Best Places to Work 2016, 2017, 2018, 2019 & 2020!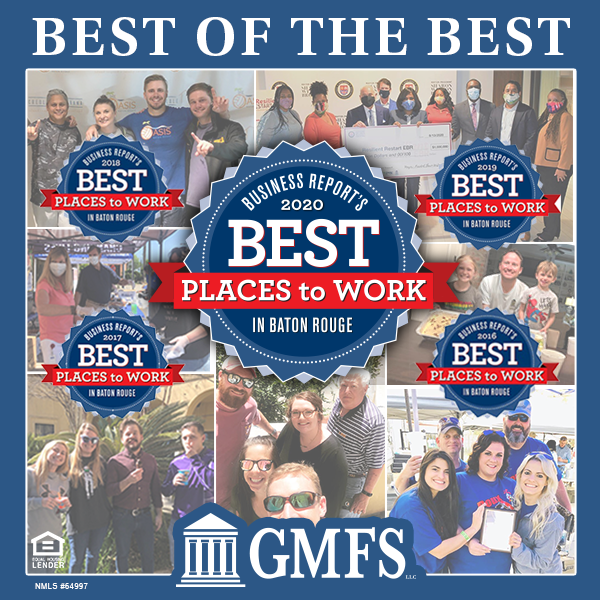 "The GMFS motto is 'changing lives,' but by providing cancer prevention to employees, GMFS could be saving lives! I feel truly blessed to work for a company that cares and gives so much as if we are all one big extended family." – Dawn Pitarro, GMFS Closing Specialist
Why Start a Career with GMFS Mortgage?
"CHANGING LIVES" is not just a slogan, it's the core value that drives every decision and action we take
GMFS Mortgage recognized as one of the Best Places to Work in Baton Rouge 2016, 2017, 2018, 2019, 2020!
Our avg. customer feedback rating is 4.9 stars out of 5 possible with over 2,300 customer reviews
Multiple recognition and awards by local voters for Best of Best Mortgage Company including recently for our Lafayette, LA and Macon, GA branches
Since 1999, more than 130,000 customers in multiple states resulting in over $24 billion in funding
Largest Louisiana operated mortgage lender as published in the Baton Rouge Business Reports' annual "Real Estate Report" released July 2015, 2016 & 2017
Very experienced staff of career mortgage professionals (many with 10-20 years in the industry)
A+ rating with Better Business Bureau and winner of their Torch Award for Marketplace Trust
Strong record of financial and "sweat equity" community support
GMFS employees can participate in optional "Wear Jeans to Work" payroll deduction program which raises funds throughout the year for families in need.
Tenured Employees
Of our 250+ employees, a remarkable 39% have at least 5 years of career service with GMFS, while an incredible 14% have at least 10 years of career service!
(last updated June. 2018)

Why I Work at GMFS Mortgage
"GMFS is a successful mortgage company that treats employees like professional adults and makes a difference in the community."
Tim S. – QC, >2 years @ GMFS
"Wanting to help people get the "All American Dream"…..A House of their own."
Jackie D. – Sales, >7 years @ GMFS
"Started as an intern and really liked working with the people here."
Scott M. – IT, >14 years @ GMFS
"Started in the industry as a receptionist and moved to closing."
Lois R. – Operations, >14 years @ GMFS
"GMFS has a great team from top to bottom!"
Sherri. N – Operations, >5 years @ GMFS
Changing Lives in Our Community
Video: Introduction to GMFS Mortgage in Baton Rouge, LA
---
GMFS Employee Appreciation Day Video
The Retail division of GMFS LLC is Doing Business as "GMFS Mortgage" in the states of Alabama, Georgia, Louisiana, Mississippi, South Carolina  and Texas.